THE Women's Beginner Mountaineering Course
AN INTRO TO MOUNTAINEERING IN THE CANADIAN ROCKIES
 
This 6 Day Course is the Premiere Introduction to Mountaineering Course in Canada. With the curriculum constantly refined, this foundational skills course will provide you with an incredible week, capturing the skills you need to begin to safely explore Glaciated and Snow & Ice environments, and opening the door to challenging Alpine Rock Climbing ascents. As we cater to current trends in mountain travel this course is purpose-built to cater to those with hiking, scrambling, trekking and indoor and crag based rock climbing experience providing you with a complete base of skills to open up the high alpine climbing world.
Opt-in for either the 3-day Ice or 3-day Rock portion of the Women's BMC. 
OPEN TO ALL ABILITIES
BRING YOUR ALL DAY HIKING FITNESS & READY FOR A WEEK OF ALPINE ADVENTURE
 
3 DAYS SNOW & ICE + 3 DAYS ALPINE ROCK
A COMPLETE FOUNDATIONAL SKILL SET FOR MOUNTAINEERS
 
2 TECHNICAL SUMMIT ASCENTS
ASCENTS OF MOUNT ATHABASCA OR ANDROMEDA + CASTLE MOUNTAIN ON COURSE
 
LOW GUIDE TO STUDENT RATIOS
1 GUIDE : 2 GUESTS ON SUMMIT ASCENT DAYS*
 
COURSE DATES AVAILABLE ALL SUMMER
JULY TO OCTOBER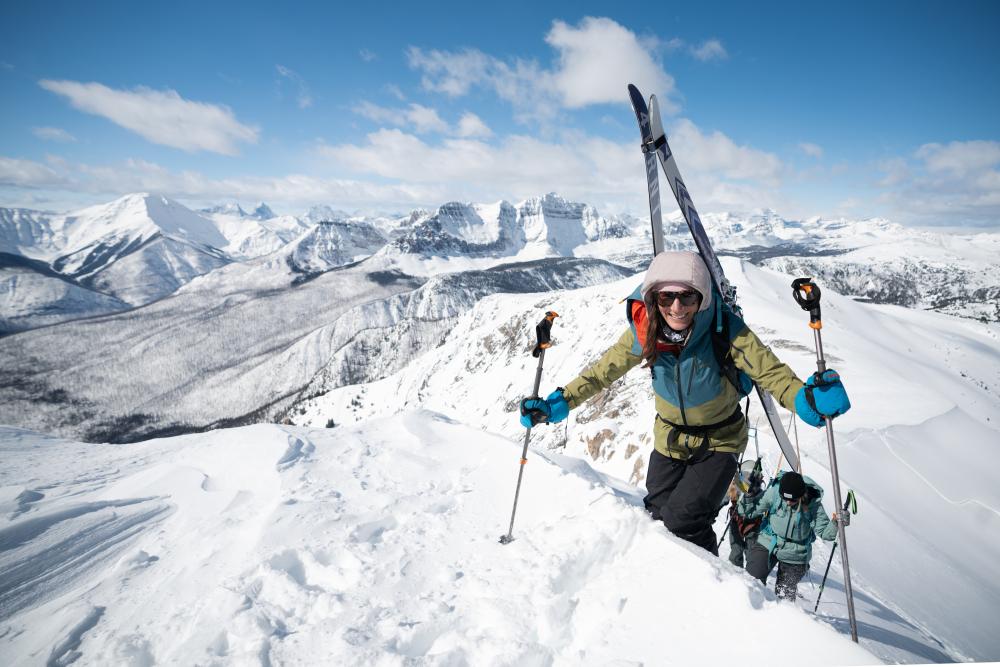 Meet your guides:
THE C9G FEMALE COLLECTIVE
2023 Summer Season Courses
Day 1 – Snow & Ice • Snow Travel Foundation
 
0900hrs - Course Open. Columbia Icefields Campground, HWY 93N.

Student Welcome & Introductions
Review of Course Agenda & Logistics
Technical Gear Sign Out
Update on Expected Conditions
Student Risk Profile Discussion
Review of Emergency Response Methods & Resources if Required on Course
Waiver Presentation
Campsite setup
 

0945hrs - Depart for Snow School - Field Day Venue (Parkers Ridge).
 
1000 to 1530hrs - During the Field Day we will cover the following:

Safe Movement, Tracksetting, Footwork and Ice Axe Techniques for Moderate Angle Snow Travel

Carrying the Ice Ax
Self Belaying
The Rest Step & Step Kicking
Descending Moderate Angle Snow

Self Arrest - With and without Ice Axe

Multi Position Self Arrest
Limitations of Self Arrest

Snow Anchors including:

T Slots
Snow Picket Placements - Top Clip & Mid Clip
Snow Bollards

Pitched Climbing on Steep Snow
Introduction to Belay Station Management
 

1600hrs - Return to Icefields Carpark
Day 2 – Snow & Ice • Glacier Travel & Ice Skills Foundation
 
0800hrs - Meet at Athabasca Glacier for the Field Day
 
0900 - 1600hrs - Approach Field Day Site on Athabasca Glacier. Skills delivered will include the following: 

Glacier Morphology

Learn how and where crevasses form
Learn the basics of how Glaciers flow, and the effects of terrain on Crevasse formation
Learn to plan routes in Glaciated Terrain to minimize the likelihood of unexpected crevasse falls

Crampon Use and Footwork including:

French Technique (flat footing)
German Technique (front pointing)
Vertical Ice Climbing Techniques

Ice Axe Techniques - General & Technical Ice Tools
Roping Up for Glacier Travel (Glacier Travel Mode)

When to Apply the Rope?
How to Divide the Rope for the Climbing Team
Tying & Clipping In - Attaching Climbers to the Rope Team
When and How to Apply Prussiks to the Rope Team
Identifying Hidden Crevasses & Snow Plugs during travel

Technical Ice Climbing Skills

Learn the basics of climbing vertical ice inside the crevasses of the Athabasca Glacier

Crevasse Rescue Systems

Drop Loop 2:1 System Introduced for all Students
Learn to add mechanical advantage increasing to 6:1
Day 3 – Snow & Ice • TECHNICAL ASCENT
 
This Technical Ascent will take place on one of the high alpine Snow & Ice Capped peaks in the Columbia Icefields area. The focus of this day is to bring context and an understanding of how to apply learned skills on Day 1 and Day 2 while using your new skills in context during a full day summit attempt.
Peaks ascended on course can include Mount Athabasca, Mount Andromeda as primary objectives, or A2 and Boundary Peak as secondary objectives should conditions or the group require it.
The Itinerary as follows is susceptible to change pending current conditions at the time of your course, or as the group requires to provide the best chances of success while on ascent.
0400hrs - Arrival at Trailhead and team departure for the Technical Ascent. Review of essential equipment, our intended routes, and plan for the day.
Mid Afternoon Return Times - See below for average ascent times. An early to mid afternoon return time is generally the norm on our ascent day.
Ascent times will vary on the selected route chosen by Students and our Guides in collaboration. In excellent conditions, with exceptionally fit students ascent times can be expected to be between 6-8 hours return. On average, ascent times between 9-11 hours should be considered the norm. During periods of exceptionally challenging or physically intensive conditions on the mountain, or for teams requiring additional time, ascent times can extend upwards of 14hrs. This should however be considered to be a rare exception for most students.
The end of our Snow & Ice Technical Ascent Day officially wraps up the Snow & Ice Components of the program, with a switch to Alpine Rock Skill Sets for Day 4. 
Day 4 – Alpine Rock • Traditional Climbing Systems
 
Our day will begin by departing the Icefields Campground at approximately 0630hrs for travel to the Back of the Lake Crag in the Lake Louise area.
The Traditional Climbing Systems component of the course will provide the skills required to place and assess your own removable (non-bolted) protection, essential for protecting rope teams in technical rock terrain. An essential skill for travelling in technical rock terrain in the high alpine.
We cover the following: 
0800hrs - Arrive at Lake Louise Townsite
0800 - 0845hrs - Approach the Back of the Lake Rock Climbing Crags
0845 - 1200hrs - Our first session will cover and provide you with the following:
Gear and Equipment Introduction
Discuss essential equipment for Traditional Climbing, including camming devices, nuts, and pitons.
Learn to to assess the strengths and limitations of each piece of gear presented in a variety of circumstances.
Introduction to Placing Traditional Gear & Assessment Processes

Is the size of piece correct?
Have you assessed the likely direction of pull?
Learn to assess rock quality supporting your placements
Can you ID any potential for multiplied forces within you protection systems?
Learn to grade each placement systematically.
Learn to build and assess Traditional Anchors (anchors you build yourself with removable protection)

Learn to create equalized or "IDEAL" anchors using a variety of materials and formats
Learn a variety of belay methods for use in technical climbing, and understand how and when to apply them;

Direct Anchor Belay (multipitch)
Redirected Belay (multipitch)
Fixed Point Belay (multipitch)
Standard Leader Belay (singlepitch and multipitch)

Learn to construct and rig your own rappell systems for use as an individual or teams while descending either single or multipitch technical terrain
1200 - 1245 - Lunch
1245 - 1530hrs - Introduction to Leading Traditionally Protected Rock Climbs
Introduction to Traditional Protection Strategies for pitched climbing
Follow a process from our Guides which will take you from your first steps on Traditional routes, through a tactic we call "mock-leading" allowing you to practice on both lead and top rope at the same time, and progressing toward your very first live Traditional Lead.
*** Lead Climbing traditional routes presents a substantial increase in risk, over and above leading on bolted protection. Students who demonstrate requisite levels of competence will be given the opportunity to lead a pitch live during this session, however this will be at your Guides discretion. If the option is not presented during this session, our Guides will work to provide clear direction for you on areas to focus which will facilitate progression towards this goal, and work to provide you the option to do so before course close. 
Again - please note: any leading taking place on course will be at the sole discretion of the lead guide in the field.
1530 - 1630hrs - Return to Lake Louise Car Park
Day 5 – Alpine Rock • Short Roping & 4th Class Protection techniques
 
The goal of Day 5 will be to introduce the principles of peer team shortroping. While more commonly viewed as a Guiding Technique in North America, short roping provides a reliable system for teams to protect themselves while moving through 4th class and easy 5th class terrain. These techniques focus on protection strategies that will help students to understand how rope and climber positioning in the terrain can take advantage of the friction available in the system to protect the team commonly without the need to place removable (traditional) protection for anchors or running protection. Venue TBD on course, but will be central to the Lake Louise region. Commonly we will use areas in the Castle Mountain region, or above Moraine Lake for this module.
0700hrs - Arrive at Venue
0730 - 0900hrs - Approach from Parking / Trailhead to Venue
0900 - 1500hrs - Shortroping and 4th Class Protection Techniques Clinic. Learned skills to include:
Picking up (body) coils for travel Shortroping.
Essential commands / communications for team travel
Body Belay's - Strengths and Limitations

Hip Belay
Standing Hip Belay
Hand Belay (incorporating terrain friction)
Building Traditional Anchors & Shortroping

Short Pitching
Anticipating Transitions (short roping to short pitching to pitching)
Limitations of Shortroping Systems
 
Day 6 – Alpine Rock • Technical ASCEnt
 
This Technical Ascent will take place most commonly around the Lake Louise area, this could include ascents off Castle Mountain, or even closer to Lake Louise. Routes for Castle Mountain could include: The Eisenhower Tower, Brewers Buttress or Bass Buttress. Routes closer to Lake Louise could include: The Tower of Babel or The Grand Sentinel. The focus of this day is to bring context and an understanding of how to apply your newly learned Traditional Climbing Skills and Shortroping Protection strategies on a full day Alpine Rock Ascent.
The Itinerary as follows is susceptible to change pending current conditions at the time of your course, or as the group requires to provide the best chances of success while on the ascent.
The itinerary provided below outlines our ascent of Eisenhower Tower on Castle Mountain. The most common objective completed on the Alpine Rock Technical Ascent Day.
 
0330hrs - Arrive at Rockbound Lake (Castle Mountain) Trailhead.
0400hrs - Depart Rockbound Lake Trailhead for Eisenhower Tower
0530hrs - Base of Climbing Reached - Shortroping & Shortpitching work begin through lower tier of Castle Mountain
0645hrs - Goat Plateau reached. The halfway point between the lower and upper tiers of Castle Mountain
0700 - 1100hrs - Ascent of Eisenhower Tower via the Dragons Back (5.3)
1130 - 1600hrs - Reverse Route from Summit and Descend back to Trailhead via Rockbound Lake Trail.
1630 - 1700hrs - Course Close & Debrief
PRE TRIp Logistics
 
COURSE LOCATIONS: 
Cloud Nine Guides and the majority of our Guiding Team are based in the mountain town of Canmore, Alberta. A short 15 minute drive from the East Gates of Banff National Park.
 The course will be based primarily from the Columbia Icefields and the Lake Louise regions, within the boundaries of Banff National Park
TRAVEL TO BANFF NATIONAL PARK:
For those arriving Internationally or from locations outside of Alberta or British Columbia, arriving at Calgary International Airport (YYC) will provide the most direct access to our course locations.
TRANSPORTATION ON COURSE:
Transportation is not included in your Course Fee. Students are expected to arrive with their own, or pre-arranged group transportation. Short commutes will be required nearly every day of the course, and it is important to come prepared. 
Students wishing to carpool with others should prepare for this well in advance, and have a plan for shared transportation prior to course start.
 
A personal vehicle or rental car is our suggested transportation mode.
 
Cloud Nine Program Managers are happy to provide you with options for Rental Cars, or Group Transfers from Calgary to Canmore/Banff/Lake Louise in advance of the course. Please contact us for details.
ARRIVAL IN CANMORE / LAKE LOUISE & ACCOMMODATION PRE-COURSE:
Commonly, our Students arrive a day or two in advance of the course to get settled and prepare for the program. Generally, we would suggest basing yourself in the Canmore or Banff area prior to the program. These two towns are where you will find the broadest accommodation options, and amenities to aid you in preparing for the course. We would suggest the following accommodation options pre-course:

 
TRIP FOOD & MEAL PROGRAMS:
A complete meal program can be provided for you on course.
 

A team dinner will be provided at the Bill Peyto Cafe at the Lake Louise Alpine Center on the evening of Day 4. Meal costs are included in the add-on or all-inclusive options (beverage costs excluded).
NATIONAL PARK ENTRY PASSES: 
Students are responsible for obtaining a National Park entry pass for the duration of the course
GEAR PURCHASES PRE-COURSE:
For those looking to purchase gear and equipment prior to your course, we would suggest the following local Bow Valley retailers:

 

Vertical Addiction

Located in Canmore, Vertical Addiction offers a complete selection of technical climbing, mountaineering and ski equipment along with a broad selection of technical clothing. 
 

Monods Sports

Located in Banff, Monods is one of the longest operating outdoor equipment and clothing retailers in the Bow Valley. Monods have a large selection of technical clothing offerings
 

Black Diamond Equipment

Our Affiliate Partners at Black Diamond Equipment are our first choice for technical clothing and equipment. Check out their broad range of technical clothing and equipment and find a local retailer via their website.
On Course Logistics
 
DURATION & PROGRAM FLOW:
The Women's Beginner Mountaineering Course is a 6 Day Program, offered between June 1st and October 1st each summer season. 
The Course is divided into 2 main modules, each providing 3 days of focused training. During each three day module, the course provides two training and skills work days followed by a technical alpine ascent for a total of 4 days or dedicated skills training and 2 full day alpine summit attempts during the program.
Module 1 - 3 Days / Snow & Ice Foundation + Technical Alpine Ascent
Module 2 - 3 Days / Alpine Rock Foundation + Technical Alpine Ascent
ACCOMODATION:
Front Country Camping Fees, and all other Accommodation Costs are included in an add-on fee or the all inclusive option, the accommodation options are limited to the program provided below. Upgraded options available - contact our Program Managers for more details.
DAY 1 - Icefields Tent Campground
DAY 2 - Icefields Tent Campground
DAY 3 - Icefields Tent Campground
DAY 4 - Lake Louise Alpine Center
DAY 5 - Lake Louise Alpine Center or High Alpine Bivauoc 
DAY 6 - n/a
HERE, you can find the campground location  for reference. This campground is limited to tents only (no RV's), and typically in the past has been considered to be the "climbers campground". There are outhouses, cooking shelters with wood burning stoves, bear proof food storage lockers, and a water source that is treated and available for camper use. This campground makes for an excellent base for the Snow & Ice Modules of the course, as it is only a short 5min drive from our trailheads, its location allowing us to be on the glacier ice in under 40min from departure.
The Lake Louise Alpine Center:
This accommodation option serves us well during the Alpine Rock Modules of the course. Returning to indoor accommodation mid-week allows for restful evenings, showers and ample space to pack and prep for your next course day. It should be noted that accommodation will be shared with other course participants during our time here. Private room options exist, and you can upgrade your stay by contacting our Program Managers for pricing and availability. 
REQUIRED EQUIPMENT
The following is and Gear, Clothing and Equipment list. You will be required to arrive with these items on course.
EQUIPMENT
Gaiters (optional)
Trekking Pole
Water Bottle or Collapsible Water Bladder (1L)
Topographic Maps (optional)
Compass (optional) 
Smartphone GPS App (Gaia & Fatmap)

We suggest a subscription to both products for better functionality in the field.

Mountaineering Boots (Contact our Program Managers for suggestions)
Light Mountaineering Boot (optional - for Alpine Rock Ascents)
Rock Shoes
Sunglasses + Spares (CAT3-4 Protection Suggested)
Personal Blister Kit
Personal First Aid Kit
Sunscreen (min. SPF 50+)
Camera, batteries, memory cards & accessories
Daypack (at minimum, 1 x 35-40L backpack. In addition a 30L option may be appropriate for some days)
Camp Footwear (flip-flops or similar)
Laptop & Charger with Google Earth Downloaded to hard drive
CLOTHING
Merino Wool Blend Socks (no cotton please)
Base Layer
Mid Layer
Long Underwear (bottoms)
Softshell Pants
Softshell Jacket
Gore-Tex Jacket
Gore-Tex Pant
Warm Hat
2 X Buff Style Neck Tube / Headband
Sunhat (ballcap or full brim bucket style)
Large Gloves (ski glove or similar)
Thin Insulated Gloves (multiple pairs [3 min] for rope work)
OVERNIGHT ITEMS
Personal Tent (Tents will not be provided this season on course by Cloud Nine due to COVID-19)
3 Season Rated Sleeping Bag (rated to -7˚C / -9˚C)
Alarm Clock (or Smartphone)
Lighter / Matches (optional)
Toiletries + Personal Hand Sanitizer Supply
Mask (N95 or similar. Neck Tubes folded to create 2 material layers are acceptible)
Headlamp with 3 spare sets of fresh batteries
iPod, Book or other Personal Entertainment for Camp (optional)
Earplugs (optional)
Provided by Cloud Nine:
The following gear and equipment is generally provided by us, and included in your course fee. However if you have the following items, please feel free to bring them with you on course:
EQUIPMENT
Helmet 
Rock Harness
Lightweight Mountaineering Harness
Quickdraws
120cm Sewn Slings
3 Locking Carabiners
3 Non-Locking Carabiners
Belay Device (We suggest the ATC Guide or similar)
Climbing Rope (selection of lengths and diameters)
2 X 5m Prussiks @ 6mm
1 Hollow Block or 1 X 1m Prussik @ 6mm
1 Mechanical Ascender (Petzl Micro Traction Suggested)
Traditional Climbing Protection (cams, nuts, pitons, hammer etc)
Nut Tool
Chalk Bag
Mountaineering Axe
Technical Ice Tools
Avalanche Tranciever, Probe and Shovel if required
Crampons
Ice Screws
V-Thread Hooker
COOKING EQUIPMENT
All cooking equipment, including stoves, will be provided upon request if student requires
 
Some students like to have small, personal canister stoves along with them for the week. Models we like are the MSR Reactor, or Jetboil Products. Choosing a "winter mix" fuel will often give better performance at higher elevations where temperatures are colder.
Trip Cancellation & Interruption Insurance
Portions or the balance of your Beginner Mountaineering Course may be non-refundable. The best method to protect your investment with us should unforeseen is to purchase a Trip Cancellation & Interruption Insurance Policy. We strongly recommend purchasing coverage.
Lifestyle Insurance has covered many of Cloud Nine Guests on trips all over the world, and we have first hand experience seeing these policies activated by our Guests. 
Safeguard your trip costs and investment with us. Request a Quote from Lifestyle Financial.
Is this coverage required?
For Canadian Residents, coverage is suggested by not required to register.
For Non-Canadian Citizens, coverage is suggested but not required. It is strongly suggested that your policy includes Emergency Medical Coverage, unless you carry alternative policy which will respond in the event of medical emergency.
WAIVER - Release of Liability & Indemnity Agreement
Prior to booking you will be required to acknowledge that you have been provided a copy of our Waiver of Liability Agreement for your review. All participants, or their legal guardians wishing to participate on any Cloud Nine Programs, must acknowledge that they have been presented this document in advance of booking, have read it in its entirety, and understand the agreement being entered into by signing. While there is no obligation to enter into this agreement with us, it is a condition of our service provision. 
Booking TErms & Conditions
Before you book your course, please review our Booking Terms & Conditions. We do not accept bookings without your voluntary acceptance of these terms. Please read carefully as these terms outline specific policies and guidance for both our staff and clients with respect to refunds, cancellations, rescheduling etc.
Book A PRIVATE GROUP Beginner Mountaineering Course.
For those who prefer our smallest and most focused learning environments. Groups of 4+ can book a Private Group Beginner Mountaineering Course on course dates that suit you and your crew best, and one of our ACMG / IFMGA Mountain Guides will join you on your terms. You pick the Group Size, and have the option of alternative venues and dates outside those available on our Public Courses. 
Group Booking Discounts of between 5-15% are available depending on total participants.
How Do We Book It?
Contact our office  to confirm availability for your preferred dates. We'll provide you with a private booking link for you and your group, and register either together or individually.
Included in your Beginner Mountaineering Course:
Guiding & Instructional Services for the duration of the Course
All Technical Equipment
Not Included in your Beginner Mountaineering Course:
Personal Transportation
National Park Entry Passes for the duration of the course
Personal Clothing & Required Equipment Items listed above in "required equipment"
Mountaineering Boots
Rock Shoes
Meals for the duration of program
Accommodation
No. No previous experience is required.
This is a foundational level skills course, and while there will be benefit for both entry level and intermediate level students, the course has been designed to build skill sets from the ground up.
The curriculum has been built primarily to cater to those with day hiking, backpacking, scrambling, and single pitch rock climbing experience (even if limited) as we've aimed to provide a logical seguay from these other gateway mountain pursuits into mountaineering and alpinism.
Ultimately, the 2 most important things to bring with you are a level of fitness that allows you to be outdoors and on the move for 7-10 hours consistently throughout the day, and most importantly and openness to a week chock full of adventure!
The most important asset you can bring on course is a sound level of cardio vascular fitness. This will mean different things to different individuals, but if you're accustom to being in the mountains, carrying a pack and moving for full days at a time, you'll be ready physically to participate.
The course is structured so that our biggest days are followed by physically lighter duty days to follow.
Most people new to the sport will have different ideas about what mountaineering or technical alpinism entails prior to taking a course like this. In part an Intro to Mountaineering style course will help you calibrate and provide good direction for your future plans and adventures, and give you the skills to engage in the activity at a level of risk your comfortable with.
Again, keep in mind this is a foundational level skills course. The idea is to provide you with a broad tool (skill) set, an ability to identify alpine hazards and associated risk, and to acquire a more systematic framework for traveling, climbing, making decisions and planning your trips in a technical alpine environment. 
Never been Mountaineering before? No problem. An appetite for adventure and good all day travel fitness will be your best assets.
Skills & Instructional Days: Guide to Student Ratios are 1:6
On Technical Ascent Days: Guide to Student Ratios can be as low as 1:2 if required to allow for more technical routes to be ascended on the peak selected.
Please read our Booking Terms and Conditions carefully as outlined above. These outline all terms for cancellation, and governs the provision of credits or refund. We'd encourage you to get in touch with our Program Managers to clarify prior to booking.