BOOK Your PRIVATE Rock GUIDE
for Guided Ascents or Instruction in the Canadian Rockies
You're looking to climb some of the most scenic and famous climbing routes in Northern America, but not sure if you are comfortable choosing the right route or don't have the skill set to make it to the top. Let us help connect you with a Cloud Nine Mountain Guide that fits you and your group best, and we'll work to understand your goals for the trip. By choosing a route that embraces your technical skills and ability, or adding some additional days of instruction, Cloud Nine Guides can realize a day that fulfills your personal learning objectives. Other means of assistance we provide are site safety, risk management consulting, and dialing in a day that's right on point.
Step 1 is to reach out to our Program Managers to kick some tires. After your booking is confirmed, a Program Manager will then be attached to your booking and available 5 days a week from the time you book, until your trip dates for you to check in on any aspect of your trip, at your leisure. 
Pricing is based on the experience level of the Guide you choose to book. Select from 3 tiers, those most experienced of which have between 20-30 years of professional Guiding experience locally. A base rate for your day is billed for the first group member with an additional $75.00 added on per group member after the first.
We'll connect you with your ACMG/IFMGA Certified, Cloud Nine Mountain or Alpine Guide 7 Days in advance of your trip to finalize the finer points of your logistics, itinerary, and expected conditions; and then you're off and away.
Dates are often limited so book early.
experienced Local Mountain & AlpinE guides 
CHOOSE FROM 3 TIERS OF OUR CLOUD NINE MOUNTAIN GUIDES WHO BEST FITS YOUR VIBE
 
PRE-TRIP PLANNING, SUPPORT & Consultation available
FROM FIRST CALL TO YOUR TRIP - OUR PROGRAM MANAGERS WORK WITH YOU FRONT TO BACK
 
ALL TECHNICAL EQUIPMENT AVAILABLE
ALL TECHNICAL EQUIPMENT AVAILABLE FREE WITH BOOKING WITH US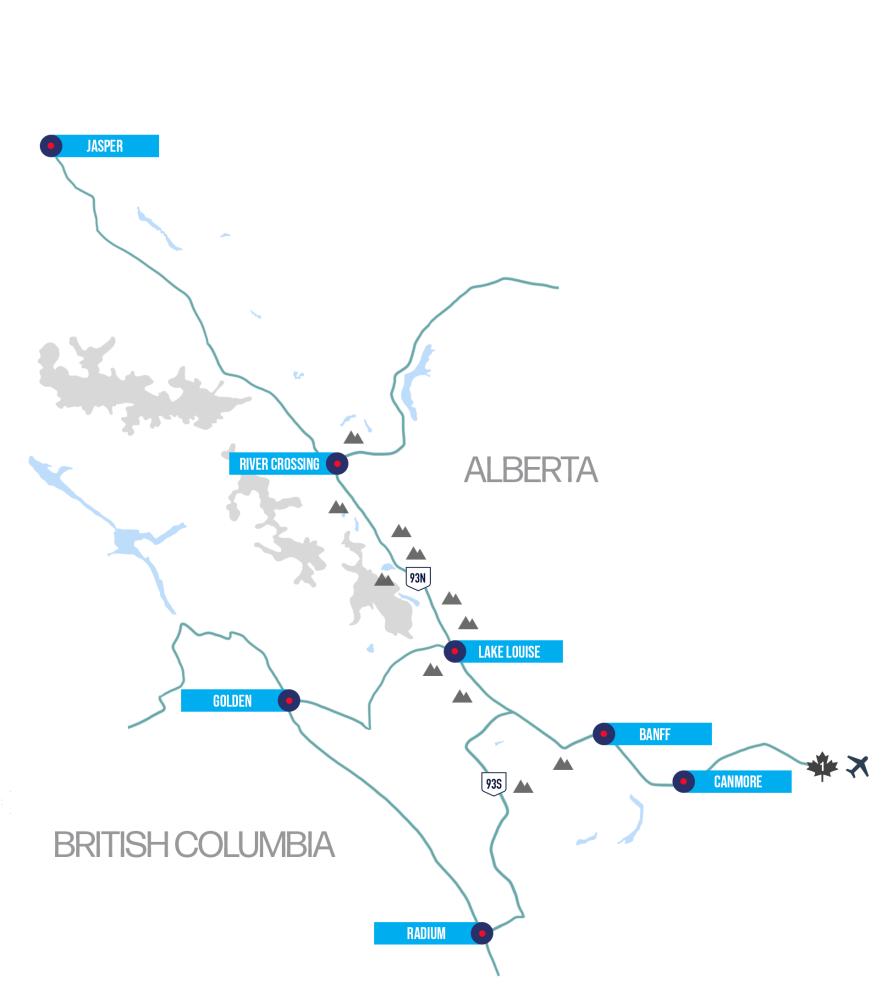 BOOK YOUR ADVENTURE HERE:
MEET YOUR MOUNTAIN GUIDES:
LOGISTICS
Guide : Guest Ratios
Guide to Guest Ratios on our Private Rock Climbing Programs are 1 Guide : 8 Guests for single pitch objectives with limited complexity, 1 Guide : 2 Guests for multi-pitch objectives and waterfall routes, and 1 Guide : 1 Guest for long and/or highly technical objectives. 
 
Travel to the Banff • Canmore • Lake Louise
Our suggestions for your most efficient way to access the program venue from a variety of locations and international ports of entry:
Calgary (YYC) to Lake Louise:

Those Guests traveling from, or arriving by air at Calgary International Airport: Your most efficient route to join us for a program start in Lake Louise for example, will be through our base in Canmore, Alberta. A rental car may be required, though public transfers or transportation options are also available to you.
Find a travel plan here

Edmonton (YEG) to Lake Louise: 

Those Guests travelling from, or arriving by air at Edmonton International Airport: Typically this will require travel via Rocky Mountain House then Saskatchewan River Crossing, turning south on HWY 93N toward Lake Louise. A rental car or personal transportation will be required.
Find a travel plan here

Travelling from British Columbia: 

For our Guests travelling and arriving from locations in British Columbia: Please use the following map link to aid in your planning and arrival in Lake Louise. 
Our Meeting Point in Lake Louise
Transfers from Calgary international Airport:
Transfers are available departing Calgary International, arriving in Canmore, Banff and Lake Louise. We'd suggest The Banff Airporter for those requiring transfers from Calgary.
Early ARRIVALS - Accommodation & trip prep
For those looking to arrive ahead of your program, there are a variety of useful pre-trip amenities and comfortable accommodation options around our base in Canmore, Alberta, the townsite of Banff (a further 20 minute drive inside the East Gates of Banff National Park), and Lake Louise. Following are suggestions for accommodation as well as gear and equipment retailers to help you prepare post arrival:
ACCOMMODATION:
 

GEAR PURCHASES PRE-TRIP:

For those looking to purchase gear and equipment prior to your course, we would suggest the following local Bow Valley retailers:
Mountain Meal Program
Complete or partial Meal Programs are available as additional add-ons to all our Private Guiding Programs.
Dietary restrictions can be accommodated. Please contact our Program Managers at the office for more information on Gluten Free, Lactose Free, Paleo diets or any allergy restrictions for your trip, as well as a complete pricing quote.
REQUIRED EQUIPMENT
Gear & Equipment Required will be based on your finalized Private Program Itinerary. Please find the following as a baseline for your reference. We are able to provide all technical equipment for the program that you choose. The only thing that we cannot provide is Mountaineering boots. 
You will require one of the following travel equipment kits to join us on your Private Program. Items can be provided additionally to your booking at your request:
Mountaineering Boots (we do not provide these)
Daypack - IMPORTANT: You will require at minimum a 30L backpack.
Sunglasses 
Climbing shoes
Lunch 
Water
Thermos with Hot Drink
Sun Screen
Small Blister Kit or Personal 1st Aid Kit
ESSENTIAL CLOTHING
This essential clothing list is provided firstly to help support a better quality experience for you while on trip.
Base Layers - Either wool or synthetic, or a polypro base layer are the best options. DO NOT wear cotton base layers. 
Mid Layers - Wool, synthetic or polypro is are best
Softshell Jacket or Goretex Jacket
Softshell Pants or Goretex Pants
Insulated Jacket - Large Parka style jackets are very important for the moments we're stopped during the field day. Down Parka's or Synthetic Down Parka's are a very important addition to your clothing systems for the course.
Socks - Wool blend, no cotton
Trip Cancellation & Interruption Insurance
The best method to protect your investment with us should unforeseen arise requiring you cancel your booking, is to purchase a Trip Cancellation & Interruption Insurance Policy. 
Lifestyle Insurance has covered many of Cloud Nine Guests on trips all over the world, and we have first hand experience seeing these policies activated by our Guests. 
Safeguard your trip costs and investment with us. Request a Quote from Lifestyle Financial.
Is this coverage required?
For Canadian Residents, coverage is suggested by not required to register.
For Non-Canadian Citizens, coverage is suggested but not required. It is strongly suggested that your policy includes Emergency Medical Coverage, unless you carry alternative policy which will respond in the event of medical emergency.
WAIVER - Release of Liability & Indemnity Agreement
Prior to booking you will be required to acknowledge that you have been provided a copy of our Waiver of Liability Agreement for your review. All participants, or their legal guardians wishing to participate on any Cloud Nine Programs, must acknowledge that they have been presented this document, have read it in its entirety, and understand the agreement being entered into by signing. While there is no obligation to enter into this agreement with us, it is a condition of our service provision. 
Booking TErms & Conditions
Before you book your course, please review our Booking Terms & Conditions. We do not accept bookings without your voluntary acceptance of these terms. Please read carefully as these terms outline specific policies and guidance for both our staff and clients with respect to refunds, cancellations, rescheduling, credit forward, refund exemptions etc.
Book a free consultation
Book a phone call or video call with either of our Program Managers or with our Director of Operations.
This is an excellent preliminary step towards booking a trip with us. It allows us to better understand your requirements and needs for your desired objective.