Climb Mount Temple - 3544M
GUIDED ASCENTS FOR SCRAMBLERS & ALPINISTS VIA 3 CLASSIC ROUTES
 
Mount Temple is an unforgettable landscape. From the town of Lake Louise, the North Face is easily the most prominent feature on the landscape with its summit block covered in thick, blue glacial ice. We offer this ascent via 3 Routes, each with its own unique character, technical difficulty and interest for our Guests.
 
The Regular Route - SW Face:
The SW Face is fast becoming one of the most popular routes in the Lake Louise group for those after a a non-technical ascent in the Lake Louise group. Rising 1660M above the shores of our trailhead at Moraine Lake, the scramblers route provides a big day in moderate terrain for those seeking a Temple Summit. This is often an exceptionally busy route in the summer months by Canadian standards, and having one of our Senior IFMGA Mountain Guides along will ensure you and your team is not subject to increased risk of rockfall, rapidly changing high alpine weather conditions, or other groups who may be travelling off the established ascent route. An excellent itinerary, open to a wide range of our Guests from families through experienced scramblers. Select this itinerary below for more information on the ascent with our team.
The East Ridge - 5.7 / D / 1000M. 
Another of the 50 Classic Climbs in North America, for our Guests with a season or two of Mountaineering or Guided Alpine Climbing, we offer this ascent as either a 1 or 2 day itinerary. For those looking for a more reasonable pace on ascent, our 2 day program provides the option of a high alpine bivouac mid route, while our single day ascents are reserved for those who have previous experience with our IFMGA Mountain Guides. Select this itinerary below for more information on an East Ridge ascent with our team.
The North Face via The Greenwood Jones - 5.10a / TD+ / 1300M
The Greenwood Jones is for many of our Guests the culmination of years of training and preparation with our Guides. Given the technical difficulty, and the increased risk inherent on very large ascents such as this, we require that those booking have completed a minimum of 1 trip per year in a summer alpine environment with a Cloud Nine Mountain Guide, for a minimum of 3 seasons. Ideally these training trips will take place in a variety of locations in Canada or abroad. Ascents of routes such as this require high levels of trust, and a well developed relationships, and understanding between Client and Guide, which in our view can only be acquired with a diet of preparatory ascents. If you have designs on making this a future goal, we encourage you to contact our program managers for a training plan. Select the itinerary below for more information.
 
AN ICONIC CANADIAN ROCKIES ASCENT
OUR MOST POPULAR ALPINE PROGRAM JUNE TO OCTOBER
 
TECHNICAL EQUIPMENT INCLUDED*
SUPPORTED BY OUR PARTNERS AT BLACK DIAMOND EQUIPMENT
 
MEAL PROGRAMS AVAILABLE
HEALTHY MOUNTAIN MEALS TO KEEP YOUR FURNACE FIRING
 
BOOK WITH A GROUP AND SAVE
BOOK WITH GROUPS OF UP TO 6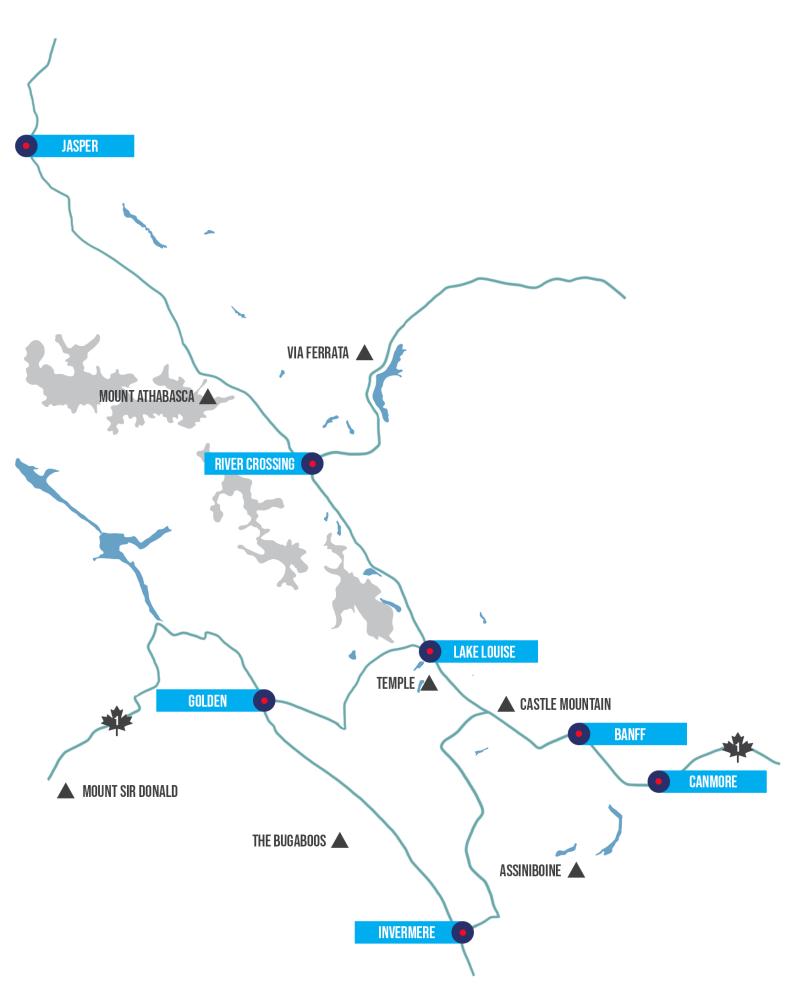 Itinerary
Standby... currently being updated!
Logistics
Standby... currently being updated!
Required Equipment & Personal Items
Backpacks - 40-50L (Depending on Itinerary)
Mountaineering Boots (not provided)
Ice Axe (included on request
Crampons (included on request
Harness (included on request)
Helmet (included on request)
Sunglasses (We suggest Julbo Sun Glasses min. CAT 3)
50+ SPF Sunscreen
Lib Balm with SPF
Headlamp with Fresh Batteries
Water Bottle - 2 X Collapsable Nalgene Style Water Bottle suggested
Blister Kit
Camera
Trekking Pole
Ear Plugs (2 Day Ascents)
Essential clothing
Base Layers - Tops and Bottoms (Wool or Synthetic Only)
Mid Layers - Tops and Bottoms (200 Weight Wool or Synthetic is Ideal)
Socks - Wool Blend is best, no cotton
Light Collared Synthetic Shirt (optional, nice for the really hot sunny days)
Softshell Jacket and Pants
Gore Tex Jacket and Pants
Sun Hat
Buff Style Neck Tube or Similar
Insulated Hat
Gloves - Heavyweight and Lightweight Options
Underwear + spares
Down or Synthetic Insulated Jacket
Trip Cancellation & Interruption Insurance
The best method to protect your investment with us should unforeseen is to purchase a Trip Cancellation & Interruption Insurance Policy. We strongly recommend purchasing coverage.
Lifestyle Insurance has covered many of Cloud Nine Guests on trips all over the world, and we have first hand experience seeing these policies activated by our Guests. 
Safeguard your trip costs and investment with us. Request a Quote from Lifestyle Financial.
Is this coverage required?
For Canadian Residents, coverage is suggested by not required to register.
For Non-Canadian Citizens, coverage is suggested but not required. It is strongly suggested that your policy includes Emergency Medical Coverage, unless you carry alternative policy which will respond in the event of medical emergency.
WAIVER - Release of Liability & Indemnity Agreement
Prior to booking you will be required to acknowledge that you have been provided a copy of our Waiver of Liability Agreement for your review. All participants, or their legal guardians wishing to participate on any Cloud Nine Programs, must acknowledge that they have been presented this document in advance of booking, have read it in its entirety, and understand the agreement being entered into by signing. While there is no obligation to enter into this agreement with us, it is a condition of our service provision. 
Booking Terms & Conditions
Before you book your course, please review our Booking Terms & Conditions. We do not accept bookings without your voluntary acceptance of these terms. Please read carefully as these terms outline specific policies and guidance for both our staff and clients with respect to refunds, cancellations, rescheduling etc.
Book a free consultation
Book a phone call or video call with either of our Program Managers or with our Director of Operations.
This is an excellent preliminary step towards booking a trip with us. It allows us to better understand your requirements and needs for your desired objective.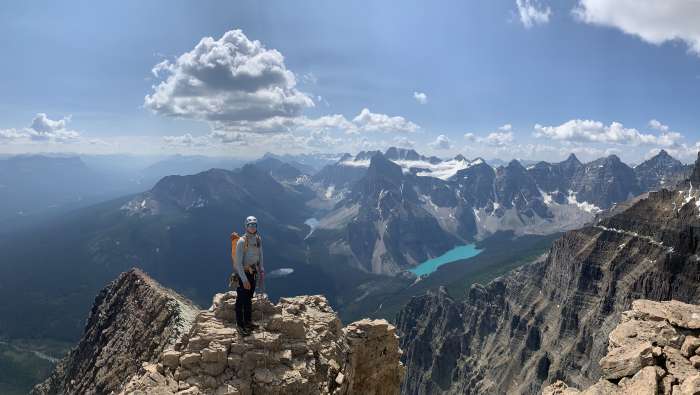 Guided Ascents of the East Ridge of Mount Temple
Check out our 1 & 2 Day Ascent Programs with a Cloud Nine Mountain Guide