The Outdoor lead Lesson
from gym to Crag in our learn to Rock Climb Series.
The Outdoor Lead Lesson is our most popular summer rock program, hosted in partnership with our friends at the Calgary Climbing Center, this course is designed to help you to take your indoor climbing experience into the outdoors this summer and provides essential skills for hundreds of students each summer season.
This program is the only of it's kind available in the Calgary and Canmore area that provides a combination of indoor training at Calgary's best indoor climbing facilities with the Calgary Climbing Centers ACMG Certified Climbing Gym Instructors, and is followed by a full day's instruction outdoors with our Cloud Nine, IFMGA & ACMG Certified Mountain Guides, providing a fluid progression from your gym to the crags. Ages 14 and up welcome, and perfect for families or you and your gym crew.
This 1.5 day course is offered every weekend from April through September, with two separate courses available each weekend, and mid week courses offered during high season.
---
 
*NOTE*
When booking this course via our website, your booking will be registered directly with The Calgary Climbing Center. The Booking Terms and Conditions that apply to your registration will be those provided by The Calgary Climbing Center alone, and those provided by Cloud Nine Guides will not apply. Contact our Program Managers for more details.
 3 Hour indoor training session
LEARN AND REFINE CLIPPING, LEAD CLIMBING & LEAD BELAYING WITH A GRIGRI
 
Full day outdoor training session
LEARN TO LEAD AND TOP ROPE, BUILD & CLEAN ANCHORS + MOVEMENT SKILLS COACHING
 
 EQUIPMENT INCLUDED IN YOUR BOOKING
HARNESS, HELMET & ALL TECHNICAL GEAR INCLUDED - OR BRING YOUR OWN
 
FOR A SMOOTH PROGRESSION IN YOUR TRAINING
 
APRIL TO SEPTEMBER
Book your seat here:
Every weekend April through September
meet the guides: The c9 collective
Day 1 
The course starts with 3 hours of training in the evening at the CCC climbing gym.
 
In this 3hr session, you will cover the basics of lead climbing in the gym before hitting the rock. This session builds a solid foundation to take outside with you onto the rock. You will learn different clipping techniques, understand how to belay with a GRIGRI, and clipping Anchors, as well as take part in a mock lead and live lead, too.
 
Students will be able to demonstrate the following: 
 
Finger and Thumb clipping
Demonstrate the Clipping zone
Identify incorrect clipping & how to correct them
Demonstrate how to clip anchors
Demonstrate the correct lead belaying skills
Stacking a rope and identifying problems in the rope
Confidently lead a route moving around the route efficiently 
Demonstrate a live lead, a take and a fall while on lead
Students will catch a live lead fall
Day 2 
The outdoor portion of the course 
 
In this part of the course, you will be at a local crag to the Bow Valley, no more than an hours drive from the town of Canmore. You will focus on putting everything into practice that you have learned the evening before, along with some other things that can't be covered during the indoor portion of the course. 
What students will learn in the outdoor portion:
 
Build upon leading skills and technique
Clipping quickdraws into Bolts
The importance of correctly placed quickdraws
Building anchors
Cleaning anchors
Live Lead outdoors
Live build of an anchor
Live clean of an anchor
REQUIRED EQUIPMENT
The following is and Gear, Clothing and Equipment list. You will be required to arrive with these items on course.
EQUIPMENT
Water Bottle or Collapsible Water Bladder (1L)
Rock Shoes
Sunglasses
Sunscreen (min. SPF 50+)
Camera, batteries, memory cards & accessories
Daypack (at minimum, 1 x 35-40L backpack. In addition a 30L option may be appropriate for some days)
CLOTHING
Jacket
Gore-Tex Jacket (for wet weather days only)
Gore-Tex Pant (for wet weather days only)
Buff Style Neck Tube / Headband
Sunhat (ballcap or full brim bucket style)
Thin Insulated Gloves (multiple pairs [3 min] for rope work)
OTHER
WAIVER - Release of Liability & Indemnity Agreement
All participants, or their legal guardians wishing to participate on any Cloud Nine Programs, must acknowledge that they have been presented this document in advance of programming, have read it in its entirety, and understand the agreement being entered into by signing. While there is no obligation to enter into this agreement with us, it is a condition of our service provision. 
learn More with c9 Guides: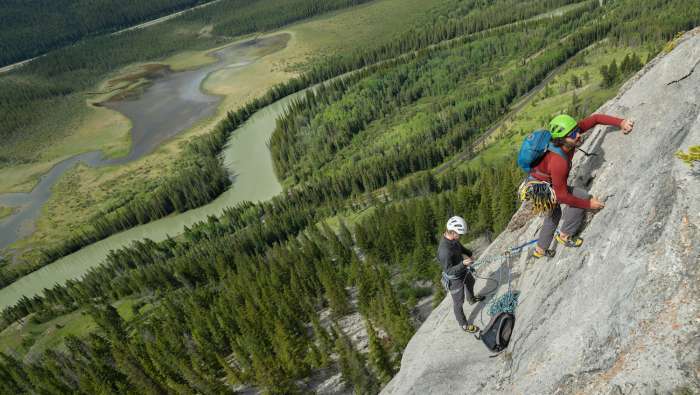 Learn to Climb Multi Pitch Sport Routes on this 2 Day Course with our Partners at The Calgary Climbing Center. Seats for $475.00 / student.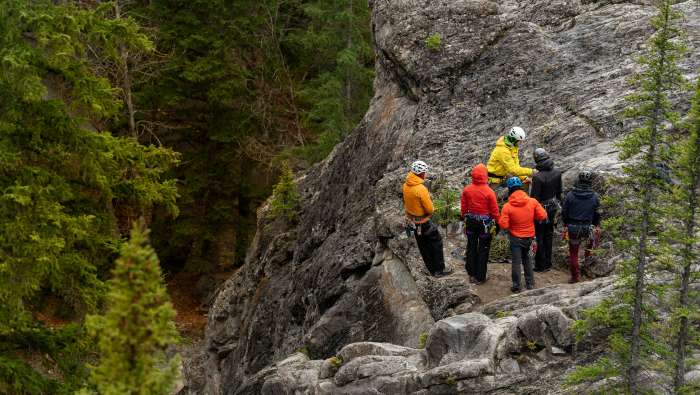 In partnership with Calgary Climbing Club, this Rock Rescue course will help increase your confidence and knowledge of ways to get out of situations many climbers find themselves in.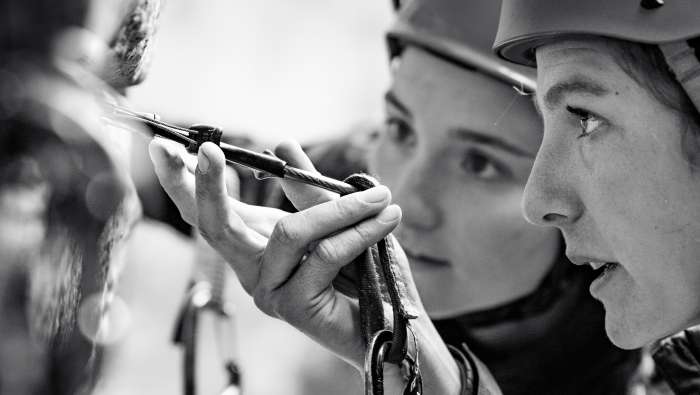 Try our Trad climbing lesson, with a 2 day outdoor climbing program. Learning how to place gear, inspect placements & build a variety of anchors.